If you're looking for a great place to have your aceo's reproduced, artcardswanted.com is great. The prints are great and the prices are reasonable. Once again, I'm very pleased.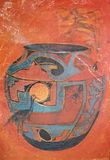 This 2-1/2"x3-1/2" ACEO is reproduced from an original acrylic, juried painting, "Zuni Soul Jar."
An egret, tarantula, and Native American shaman are superimposed over the image of a clay Zuni soul jar.
The medicine man or shaman places the soul that needs cleansing in the jar. Spinning within the jar, the good and evil parts of the soul separate with the cleansed soul rising from the mouth of the jar while the dirty part spills from the hole near the bottom.
This aceo is available for purchase in my
Etsy Shop
art
,
blog
,
weblog
,
original artwork
,
wwao
,
aceo
,
acrylic paintings
,
Native American
,
Zuni
,
Southwest
,
clay
,
bird
,
tarantula
,
shaman
,
egret
,
Linda Watson